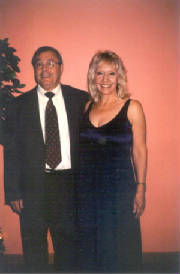 This month the Spotlight is on Manuel and Nelly Peraza

Nelly & Manuel Peraza met as teenagers at a party at Nelly's sister house. The Peraza's have a married daughter and two granddaughters (3 and 5 years old) living in Vero Beach , Florida .

Manuel is Staff Engineer for The Port Authority of NY & NJ, and Nelly works for the NYC HHC as a Coordinating Manager for the Engineering Dept.

Nelly & Manuel have been dancing for three years. Their favorite dance is the Tango. The Peraza's dance at the Old Bermuda Inn, Fred Astaire, YMCA, Latin Quarters & Lincoln Cente. Jim & Mary O'Donnell recently sponsored Manuel & Nelly in the club. What they like most about the club is the people.

Nelly & Manuel belong to other clubs: Appalachian Mountain Club, Adirondacks Mountain Club, Sierra Club, Color Photographers of S. I. (Ex-Vice President), Catskills 3500 Club (present Outings Chairman), The American Alpine Club and The Alpine Club of Canada . Manuel's hobbies are Mountaineering, Rock Climbing, Backpacking, Hiking, Photography, Music and Dancing, while Nelly's hobbies are Swimming, Hiking, Music and Dancing.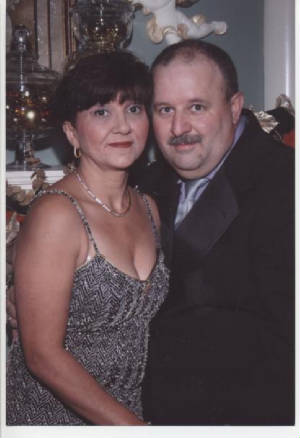 August 2008
The Spotlight is on Richard & Maryann Mazza
Richard and I met in high school. We fell in love having similar interests and being fascinated watching my parents dance. Dancing has been part of our family for many years; dating back to before we married almost 26 years ago. There is never a family occasion where dancing is not part of the fun. Although we are admired for our hustle, our favorite dance is the cha cha. MaryAnn and Paul Stallone introduced us to the club, quite coincidentally the week my mother passed away. As odd as it may sound, it was most reassuring as my Mother loved to dance and wanted us to follow in her "foot steps!" We started dancing at SIBD in February 2001.In addition to the club, we enjoy dancing at Starlight and the Old Bermuda Inn. We also attend Dee's dances. We're always ready to share a step or two with others. SIBD members are the reason for staying at the Club. They are friendly, caring, warm, welcoming, and concerned, and happy to share their dancing expertise with others. Richie works for the DEP. We also run a photography business. Maryann has a BS degree and is involved in her own jewelry business with a clientele that dates back 30 years.We have two wonderful sons, Richard Jr., 21 and Sebastian, 17. Richard is in his last year of college studying mechanical engineering and working his way through school at Radio Shack. He is interested in car racing. Sebastian will be in his last year of high school, is an excellent golfer, plays varsity soccer, and has a paper route.
Our family is very involved in a number of things that we enjoy together, including our involvement in our Church, working on our race car, cooking, traveling together, and exposing our children to our photography and jewelry business.
JULY 2008
The Spotlight is on Bob and Diane Addonizio
Diane and Bob met when she was 9 and he was 10 when Diane's family moved to 74th Street in Brooklyn. Bob teased Diane unmercifully for years and they became friends as teenagers. When Bob was away in the Navy, they realized it was more than 'friendship'. Bob and Diane have two children; Their son, Robert and his wife, Dara, have just made them proud grandparents of a granddaughter. Their daughter, Caryn, is married to Dom. Bob is retired from the NYPD and operates a Private Investigation Company. Diane is a Registered Nurse and works for Visiting Nurse Service of NY as an intake consultant. Bob enjoys playing tennis and Diane enjoys photography. They began dancing just before their daughter's wedding 1 ½ years ago. Their favorite dance is the cha-cha. Bob and Diane dance at the Old Bermuda Inn, Brandis Dance and occasionally at Starlight. Bob and Diane heard about the club when taking lessons at Fred Astaire and the YMCA. They met great people: Henry and Judy, Maria and Jim, Iva and Bill, and Susan and Tony. They will be members for 1 year in September. They feel that the club has been a wonderful place to establish friendships with people who have common interests and a gusto for life!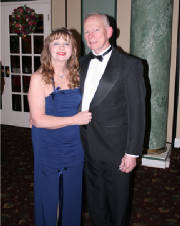 January 2007
The spotlight is on Betty & Ed Morand
In 1966, Betty and Ed Morand were attending a meeting of the S.I.Catholic Club at the Staaten. Ed was asked to play "Happy Birthday" for Betty, and when she smiled he knew that he'd won her heart, and she'd won his.
Betty has always loved dancing and began by teaching Ed the cha-cha. Since then, their love of many styles of dancing has grown. When their friends, Lorraine Hong and Jack Martin, invited them to a SIBD dance in 2003, Betty and Ed asked about becoming members. They were evaluated, and have been members ever since.
The Morands have made many new friends since joining the club, and enjoy the various themes and the wonderful dancers who inspire, encourage, and entertain their fellow club members with their amazing dancing skills. They have served as hosts at one of the club dances. Their favorite dances are cha-cha, quickstep, waltz, and swing.
Besides dancing, their hobbies are gardening and sharing the lives and activities of their three grandchildren: Shannon, Liam, and Aidan. Ed directs the choirs at St. Teresa's church, while Betty enjoys decorating and planning her flower gardens.
The Morands dance at as many family gatherings, parties, and celebrations as possible. Both Betty and Ed look forward to gardening and dancing for many years to come, and are always eager to learn new dances and to make new friends.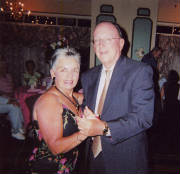 December 2006
The spotlight is on Fran & Henry Jorin
Henry was born in West Brighton and is a graduate of Pace University. Fran was born in Brooklyn, and moved to S.I. at the age of 10 (before the bridge). She graduated from Hunter College. Henry worked as a manager for the NY Telephone Co. for 34 years and 10 years as Vice President of the SI Chamber of Commerce. He served in the US Army. Fran was a teacher at Port Richmond HS, Blessed Sacrament School, Moore Catholic HS, and was principal of St. Paul's School in New Brighton. Fran retired in 1998 and Henry retired in 2000. They then moved to an active adult community in NJ.
Fran and Henry met in 1959 at a house party. They were married in 1964. They have a son and two daughters and seven grandchildren (1 boy and 6 girls).
Fran always loved to dance. Henry learned to cha cha on a cruise before he met Fran. They took some lessons and became partners who complement one another. (He says that she leads!) Angie and Neil Seff told them about the club. They attended socials and joined in 1998. They enjoy the opportunity to dance and enjoy the company of very friendly people. Henry serves as the annual auditor for the club.
Their favorite dances are the cha cha and the tango. (Now there's a dance Fran thought they would never learn but with good teachers and a little practice, "By god, I think we've got it!)" Besides the club, they often go to the Mill in Spring Lake, NJ for Big Band nights.
Their move to NJ in 2000 brought them into a new lifestyle. They are active in various groups such as the Recreation Committee, Newspaper, Retired Educators, Italian classes, Caregivers of Ocean County and the Parish of St. John's. Fran swims 5 days a week and Henry enjoys golf.
At this point in life, their greatest achievement will be to continue to buy "green bananas" for as long as possible!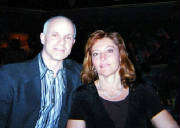 November 2006
The spotlight is on Diane & Tom Zerega
Tom is an equity sales trader in NYC, working in the brokerage business for over 25 years. He has a Masters Degree in Finance from St. John's University, and he will earn his Masters in Criminal Justice from John Jay College in January. Diane is a theatre teacher at IS 61. She produces, designs, costumes and directs productions at her home school, as well as Notre Dame and Port Richmond High Schools. She has a Masters in Education and an administration supervisor's license. She is a contributing writer, teacher trainer, and facilitator for the Blue Print of the Arts in Theatre.
Diane and Tom met in May 1974. Diane saw Tom during a production of "The Most Happy Fella" where he was playing the lead. She met him again at Great Kills Gateway Beach, July 4th, where Tom was a lifeguard. The rest, as they say, is history! While dating they spent several nights a week at local Jersey and Brooklyn discos where they would boogie the nights away. They even entered and won a hustle dance contest in South Carolina. They were married at St. Margaret Mary's in Midland Beach after they graduated from Brooklyn College in 1978.
Now that their three children – Tom (25), Brian (22) and Lauren (17) are grown, they can finally focus on ballroom dancing. From articles they read, people they met, relatives that spoke so highly of the club (Diane's parents, Carl and Marie Guzzi, are former members, ) and through people like Paul and Mary Ann Stallone they are here and love it! Diane likes mambo and salsa and Tom is fond of lindy, Latin, and hustle.
Their wish is to grow old together; enjoy the happiness and successes of their children, family and friends and hope to have the energy and endurance, like so many ballroom members they have met, to become very good dancers.
August 2006
The spotlight is on Eileen and Al Laub
Al and Eileen met at a dance at the CYO Center in Port Richmond and were married two years later. Eileen was from the Bronx and came to the dance with a friend who had just moved to Staten Island. Eileen and Al have always loved dancing and even took ballroom dance lessons as teenagers. They say that over the years they have taken so many lessons that even if their dancing doesn't improve, their love of dancing and their enjoyment only increases. Their favorite dance is the Rhumba, and right now they are working on the Viennese Waltz.
Al and Eileen have both retired from the financial industry, Al as a printer and Eileen as a paralegal. They love to travel and have traveled throughout the United States and the Caribbean, have been to Europe five times and are planning a trip to China in the Fall. Al and Eileen have three sons and one daughter and three totally precious granddaughters who they get to see very often. Their youngest son, Kevin, escaped from the 62nd floor of Tower 2 on 9/11 drawing the family circle even closer together.
Eileen and Al feel that joining the club 7 years ago was one of the best things they have ever done. They feel it has added so much to their lives, being part of the nicest group of friends who are so interesting and creative and who always have such a terrific time together.
Both feel that Life is great and Ballroom Dancing only makes it better.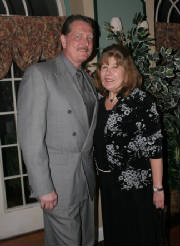 July 2006
The spotlight is on Janice and Charlie Stoffers
The Stoffers met in 1987 at Lou Raniero's El Dorado Grill on Hylan Blvd. "He looked like he wanted to dance so I asked him," says Janice. After 7 years together it didn't "itch" as Charlie puts it, so he asked her to marry him. This is the second marriage for both of them. Janice has a son and Charlie has 2 daughters. They have 4 grandchildren.
Janice has been the owner of the Hall of Frames in Grasmere for the last 34 years. Charlie is a former Wall Street executive.
Janice always liked to dance (not that she had a choice in the matter). She was recruited as a partner by her older sister when she was 6 years old.
Janice and Charlie first took lessons together at Mrs Rosemary's in order to learn the Swing. They were sponsored for the club by Angie and Neil Seff. Janice and Angie have been on numerous committees of public service organizations together.
The Stoffers have been club members for 7 years. They have met many wonderful people and have made great friends.
Their favorite dances are the Swing, the Tango and the Peabody, although Charlie's fan club calls him onto the floor when the Macarena is being played.
Charlie is an avid gardener and has a black belt in tae kwon do. Both Janice and Charlie are bird watchers and love to travel.
Janice has served on the board of the American Cancer Society, the S.I. Chamber of Commerce, the Lynn Robbins Steinman Foundation and the S.I. Institute of Arts and Sciences.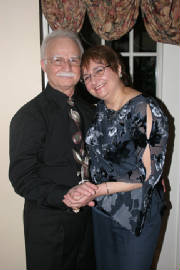 June 2006
The spotlight is on Martha and Santo Scaltro
Santo and Martha met at a church dance in Manhattan 42 years ago. Santo loved dancing and used to go every Saturday. It was during his very first dance with Martha that Santo told Martha she was going to be his wife. They were married at Holy Rosary on Staten Island in 1965.
They danced together until they had children. Once the children got older, they were able to go out again.
After they heard about the Staten Island Ballroom Dancers, it took 2 years for them to get off the wait list. They have been members of the club now for over 20 years.
Santo and Martha find the club excellent for people who are well into their years because of the exercise and regular social interaction. It keeps the mind active because there is so much work in learning and retaining dance steps. And it's just plain fun. They like the Latin dances, such as Cha Cha and the Tango. But they really impress their friends as they swirl to the Viennese Waltz.They like the availability of lessons, and the social aspect of the club. "Everyone here is really into dancing. They come to have fun and express themselves on the dance floor. Everyone respects each other and enjoys each other's company. We've met a lot of beautiful people in this club. Unfortunately, we've lost a few friends who have passed on, but there are always new people, who are easy to get along with because we all share the same love of dance."
They have 3 children and 2 grandchildren, all who love music and dancing. Since dancing is so much fun for them, they are happy that younger people are taking to the dance floor.
Santo and Martha would like to be happy together and still dancing for another 40 years.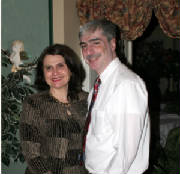 MAY 2006
The Spotlight is on Ann Marie and Vincent Verdi
Vince and Ann Marie met 16 years ago at Brooklyn College. Ann Marie was going for a Masters in Fine Arts and Vincent was working in staging and lighting in the TV department. For their first date they went out for dinner and dancing. There was no one on the dance floor and Vince asked Ann Marie to dance. She was impressed. The romance began! They married on Long Island on March 14, 1992. Ann Marie had taken ballroom dance lessons and she and Vince started dancing together early in their marriage. They met Norbert and Marge Phillipps at a dance and were invited to a Thursday social and a club dance at St. Adalbert's 8 years ago. It was the first and only time they won the 50/50.
Ann Marie and Vincent love to dance and love the people and the social aspect of dancing, getting out on Thursday night, and the challenge of routines and lessons. Vince says you get better with age.
Ann Marie is the Social Committee Chairperson. She organizes the dance instruction and the socials. Vincent is a past President and Vice President of the club. Their favorite dances are the cha-cha, quick step and rumba.
Vincent has an 18 year old daughter, Julienne, who is attending Hunter College and is a representative on the Democratic Executive Committee. They have a 12 year old son, James, who attends I.S. 24. They are teaching James to cha-cha and hope that he will enjoy dancing.
Ann Marie is President of the Soho20 Chelsea Gallery and teaches art at museums on Staten Island. Vincent is a photographer and staging and lighting director for awards shows. He has been associated with CUNY TV in New York (channel 75) and HBO. They are both working on forthcoming solo exhibitions. They have a positive attitude, waking up each morning with "Life is good!" Their motto is "Keep dancing!"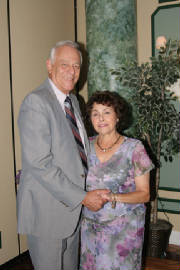 January 2006
The spotlight is on Theresa & Mario Clemente.
Mario was in the Navy with Theresa's brother. So it was meant to be that Mario met Theresa and they were married in 1958 on Easter Sunday.
She was raised in Little Italy in Manhattan. He was raised in Bensonhurst, Brooklyn. She loved to dance. He hadn't danced until they started taking group lessons in 1980 at many studios. They used to go dancing 5 nights a week when they were working. They mostly went to New Jersey. Now they're lucky to get out once a week.
They joined the club in 1981. Theresa has been eternally our Secretary before and after being President for one year in the 90's. Their favorite dance is the rhumba.
They both enjoy golfing and belong to 2 golf clubs on Staten Island. Mario, a former crew member on the USS Intrepid, volunteers on the Intrepid with the exhibits department. He also teaches Senior Citizens the computer at the Jewish Community Center (JCC) and recently received their Menorah Award for many years of service. He is a retired Motorcycle Patrolman, once one of Murphy's Marauders. Theresa is a retired school teacher. She was a Master teacher for students from her Alma Mater, NYU..
Their daughter, Laura C. Mackey, a dentist, resides in Pennsylvania. They have two granddaughters Emily and Katherine (ages 12 & 15).
Theresa & Mario enjoy traveling and have been to Europe, the Islands, Canada and Hawaii. Now they like to travel in the United States, visiting friends, playing golf and of course dancing.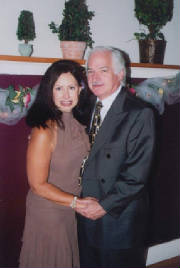 December 2005
The spotlight is on Angie and Neil Seff.
Neil was in a tennis tournament where Angie met Ralph. For some strange reason, they started to talk about dancing and Ralph even started dancing with her at the tennis match. Angie loved to dance, and to this date her first passion is dancing. So she said to Neil, "If you take up dancing, I'll take up tennis. That's how it all started! Now they are both good at both tennis and ballroom dancing.
They got married 15 years ago at Giando's on the Water in Brooklyn. That was where Neil proposed to Angie. They have four children and five grandchildren. They love the Opera. But nothing beats dancing for Angie, even when she wore a cast on her arm. They started with free style dancing and went from Gregory Dance Studio to Philips Dance Studio before joining the Club and taking lessons. Their favorite dances are the Tango and the Cha-Cha, but if you saw them do the Rumba, you'd know they did that great too.
When club dances were at St. Adalberts, Neil and Angie were very involved in introducing a buffet dinner rather than just coffee and cake. This was eventually approved at a dance in which they were chairpersons. After St. Adalberts no longer allowed club dances, Neil and Angie were instrumental in negotiating and arranging dances to be held at the Bermuda Inn. Angie and Neil have been in the Staten Island Ballroom Club for nine years. Neil has been Treasurer for four years. They've been dancing for seventeen years.
Angie is very involved in the community. She serves on the Board of Directors of Snug Harbor and of the American Cancer Society. She also volunteers at the annual dinner dance for the Staten Island Chamber of Commerce. They are both involved in court reporting and Angie owns her own court reporting agency.
September 2005
The spotlight is on Linda & George Paglia.
George and Linda met in 1971 at Public School (PS-55) where they were both teachers. They both taught for thirty-four years, and retired from the New York City school system. George taught Science and Linda taught Kindergarten through Third Grade. It was "love at first sight!" They were married in 1978.
George and Linda began dancing when they took dance lessons at Susan Wagner High School evening session in 1976 before they were married. (And they're still married!) During this time they attended all the dances they possibly could where Ronnie Francis and his band played.
They joined the Staten Island Ballroom Dancers in 2003 and have met many wonderful people. They are enjoying their company and learning more dance steps. They've been dancing for over twenty years. Their favorite dances are the Cha-Cha, Hustle, and Viennese Waltz.
Besides dancing, their Victorian home keeps them busy. Having saved it from the wrecker's ball they have found it to be a labor of love and a continuing work in progress.
Right now, George is busy in his vegetable garden while Linda is preparing to cook the produce. Linda also enjoys working on her beading projects. Together they are studying Italian and hope to visit Italy again.